june 27, 2020
The Xray team is proud to announce the release of Xray Cloud 1.1.46-1.013.000. This version features the Document Generator which allows users to export Xray-related information to PDF, Word, and Excel reports.
Release highlights 
Document Generator 
Do you need to export Xray-related information out of Jira using your own customized report? Now you can!
With the Document Generator, you can export Xray Issues, Requirements, and Defects to Word, Excel, and PDF.
You can build your own templates using Word and Excel documents or choose from the pre-made templates available in our store.
Once you have the right template, you can use it to export Stories, Tests, Test Plans, etc., into different formats such as PDF, DOCX (Word), XLSX (Excel), and more.
Configuring templates is also very easy. There are global templates configured by Jira administrators, and also project-level templates.
If you are already familiar with Xporter, then the Document Generator will feel very natural. The way to define templates and to use those templates to export issues is very similar.
What if we are already using Xporter?
Well, Xporter is a more general tool with which you can export any issues from Jira. The Document Generator is limited to Xray Issues, Requirements, and Defects.
Xporter also provides more advanced features that are not available in the Document Generator such as:
Export from Jira Service Desk
Export to File Servers or Confluence
Xporter Multi-action Post Function
The Xporter App and the Xray Document Generator can coexist without any problem.
What's next?
This is just the beginning. We plan to extend and improve the Document Generator in future releases with more features like:
Accessing the Document Generator from the different contexts in Xray such as the Test Repository or the Test Plan Board.
Support for Test Run evidence in templates.
Test Coverage information for Requirement issues.
And more, stay tuned!
Learn more about the Document Generator here.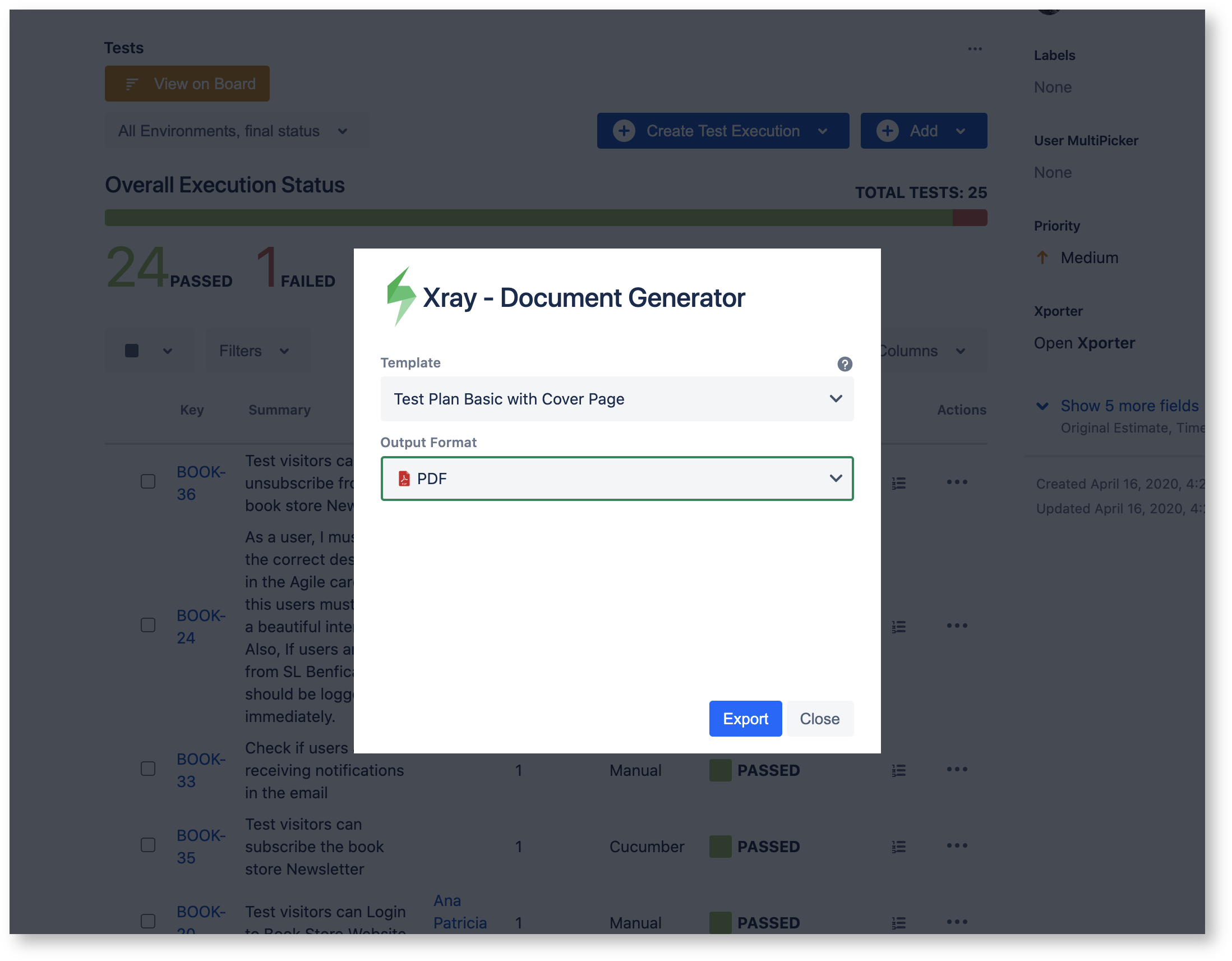 Features and Bug Fixes in this release
Key
Summary
T
Created
P
Status
Resolution